All Air Systems Heating and Cooling: Your Trusted HVAC Experts in Keyport, New Jersey
Providing Reliable HVAC Installation, Maintenance, and Repair Services
In your search for a reliable HVAC company in Keyport, New Jersey, consider All Air Systems Heating and Cooling as your best choice. Our long-standing experience and unwavering commitment to customer satisfaction make us your go-to experts for all your heating and cooling requirements. Whether it's HVAC installation, upkeep, or repair services, we've got you covered.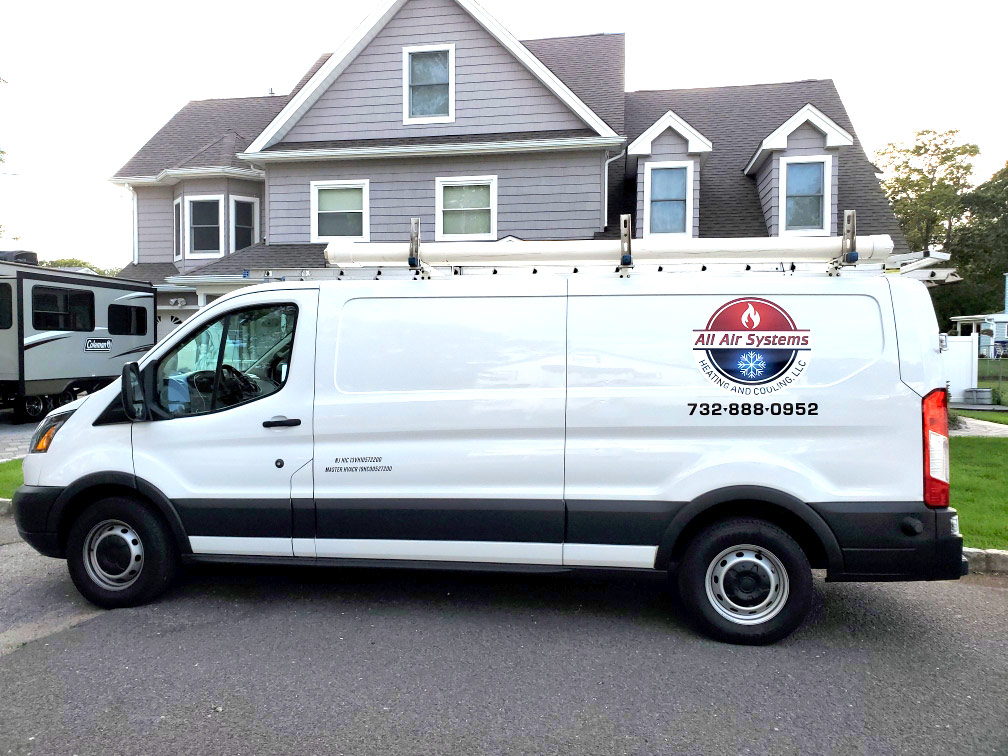 More Than Air Conditioning Repair in Keyport, NJ
Custom Duct Work Fabrication
Recognizing that each home has its unique characteristics, All Air Systems Heating and Cooling offers bespoke ductwork fabrication services in Keyport. We know that standard ductwork might not always be the perfect fit. Our proficient technicians will evaluate the layout of your home and create custom ductwork tailored to blend seamlessly into your space. This not only enhances airflow but also boosts the overall efficiency of your system.
Ductless Mini Splits
If your home lacks ductwork or if you desire to control the temperature in each room individually, ductless mini-split systems are an ideal choice. We at All Air Systems Heating and Cooling excel in the installation and maintenance of these systems, enabling you to tailor the comfort levels in different sections of your home as per your liking.
Furnace and A/C Installation
Whether you need a new furnace or air conditioning system installed in your Keyport home, we have you covered. Our team of skilled technicians is well-versed in the installation of various HVAC equipment brands. We'll work closely with you to determine the best solution for your home's heating and cooling needs, ensuring optimal comfort and energy efficiency.
Heat Pumps
If you're looking for an energy-efficient heating and cooling solution, consider our heat pump services. Heat pumps are versatile systems that can both heat and cool your home, offering year-round comfort. Our technicians are well-versed in heat pump installation, repair, and maintenance, ensuring optimal performance and energy savings for your Keyport residence.
Repairs and Maintenance
Is your HVAC system acting up or not performing as efficiently as it used to? Our experienced technicians are here to diagnose and resolve any issues you may be experiencing. From minor repairs to major overhauls, we have the expertise to get your system up and running again in no time. We also offer regular maintenance services to keep your HVAC system in peak condition, preventing costly breakdowns and extending its lifespan.
Specializing in Residential Systems
At All Air Systems Heating and Cooling, our expertise lies in meeting the distinctive needs of residential customers in Keyport, New Jersey. We comprehend the significance of a cozy home atmosphere and are committed to delivering exceptional HVAC solutions that are customized to your particular needs.
Zoning
With our zoning services, you can divide your home into separate temperature zones, giving you enhanced control over the comfort of each area. Whether you have specific temperature preferences for different rooms or want to reduce energy waste by heating or cooling only the occupied spaces, our team can design and implement a zoning system that meets your needs.
Why Choose All Air Systems Heating and Cooling in Keyport, NJ?
Experience and Expertise With years of experience in the HVAC industry, our team has the knowledge and expertise to handle all your heating and cooling needs. We stay up-to-date with the latest industry advancements and technologies, ensuring top-quality service and solutions.
Customer Satisfaction At All Air Systems Heating and Cooling, customer satisfaction is our top priority. We strive to provide exceptional service, tailored to your unique requirements. Our friendly and professional team is dedicated to exceeding your expectations and ensuring your complete satisfaction with our services.
Reliable and Timely We understand that HVAC issues can be disruptive and inconvenient. That's why we prioritize reliability and timely service. When you choose us, you can rest assured that we will arrive promptly, equipped with the necessary tools and expertise to get the job done right the first time.
If you're a resident of Keyport, New Jersey, and are in need of HVAC installation, maintenance, or repair services, All Air Systems Heating and Cooling is here to help. Contact us today at 732-888-0952 or visit our website at https://allairsystemsnj.com/ to schedule an appointment or learn more about our comprehensive HVAC solutions. Experience the comfort and reliability that comes with choosing a trusted HVAC partner in Keyport.
Call 732-888-0952 or Contact Us Today to speak with a Keyport, NJ HVAC Heating and Air Conditioning Specialist